Jumana El Husseini and Jerusalem
by Nasser Soumi
Jumana is the icon of Jerusalem, and Jerusalem is Jumana's icon. She entered the world of art as a butterfly going through a flowers' field. She entered a world that resembles her, a world filled with dreams and victory. From the beginning she declared her total commitment to justice, revealing that justice is beauty. Jumana's brush and colors carried her to the playgrounds of childhood, to Jerusalem, to Jericho and Jaffa, though all of Palestine's cities, villages and landscapes are present in her art works.



The important aspect in Jumana El Husseini's paintings is the presence of refined and delicate elements such as birds, butterflies, flowers and sunsets along with elements of force and stability such as horses, tigers, panthers, houses, trees, mainly the prickle pear tree, a symbol of resistance and belonging. Aren't all these figures and forms renderings of childhood memories carried by Jumana from the land of Palestine, especially Jerusalem where she was born, to the various exiles after being obliged to leave her beloved country?



Jerusalem has a primordial place in her intense creation, not only because she was born there in 1932, but also because her city is the Queen of all Palestinian cities and the bride of all Middle Eastern cities. Its quarters, its small streets, its souks and markets, and the beautiful wall which embraces the houses and lanes of the city of love and peace are present in Jumana's works. Of all the cities in the Middle East, it is only in Jerusalem that these characteristics are found together, and Jerusalem's wall is the only one to have survived unaffected until our times.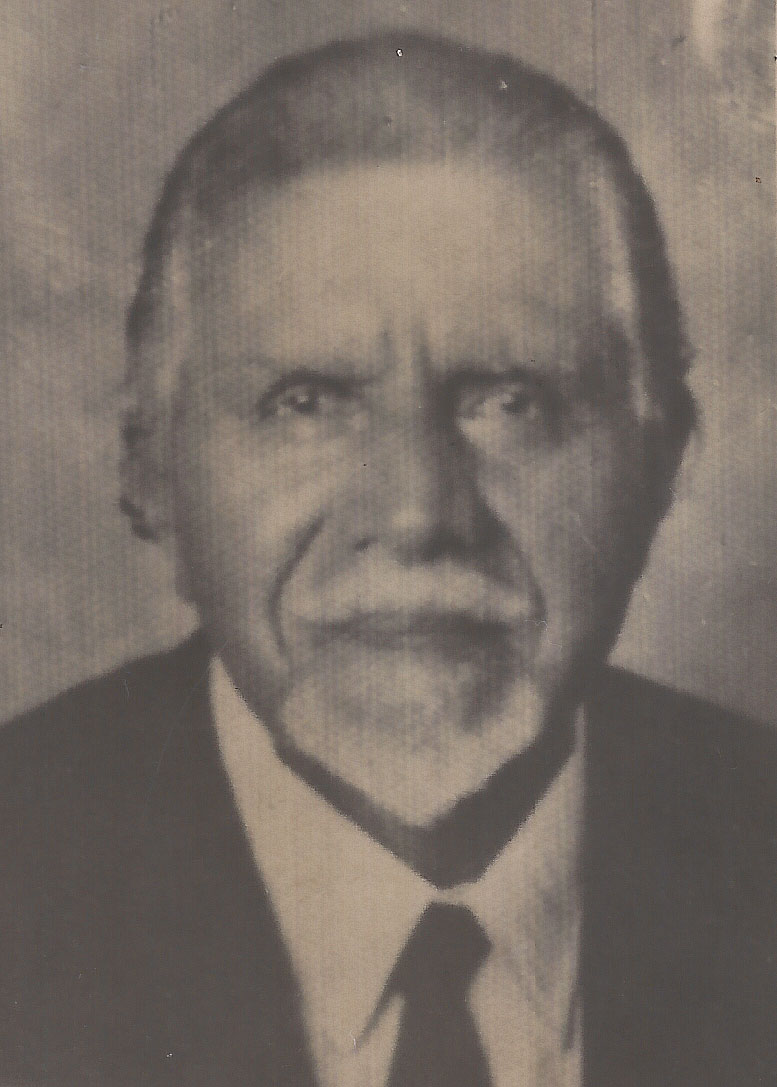 On her father's side, Jumana and her prominent family's links with the sacred city go back to at least the 13th century.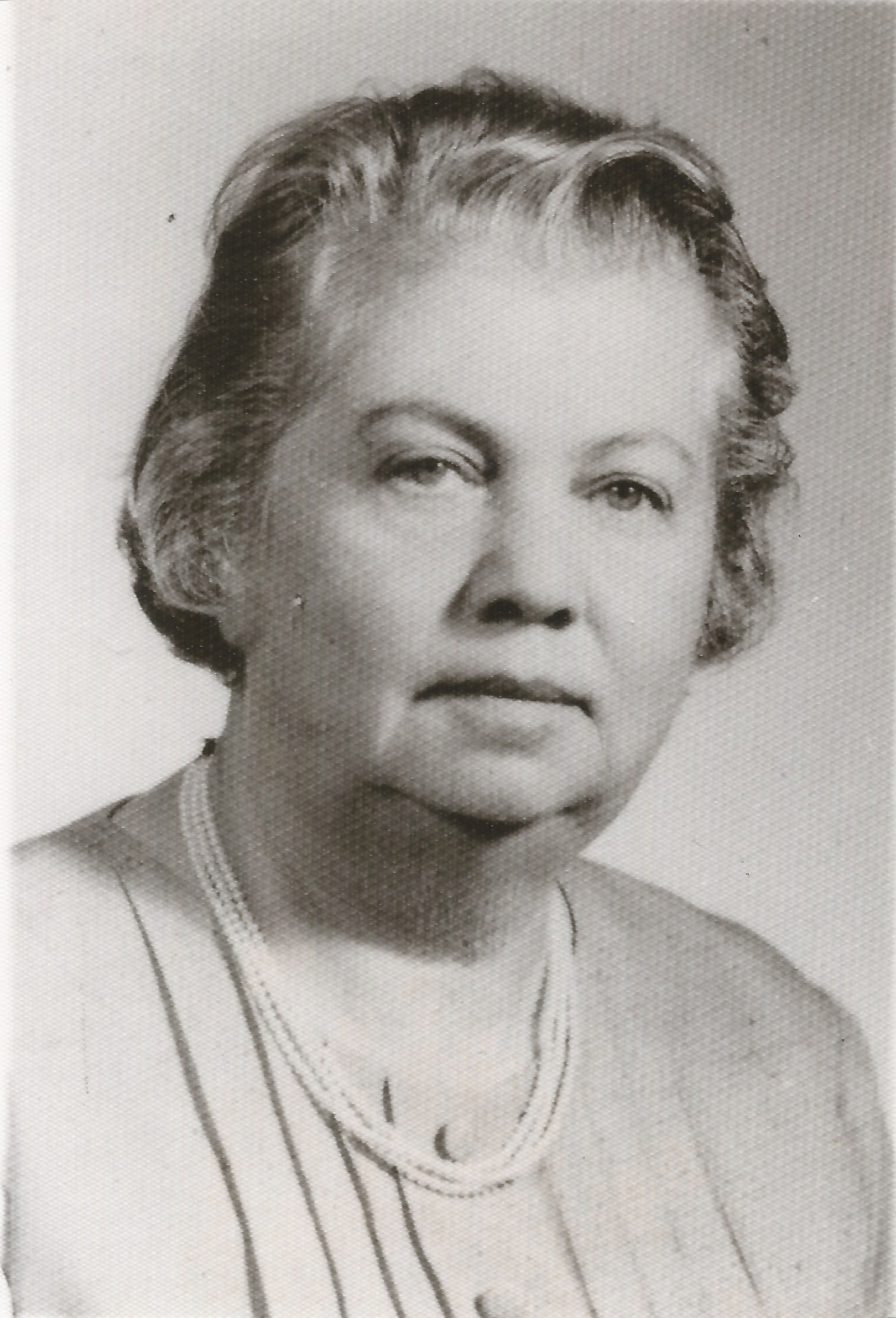 Her ancestors have always held very high religious and political positions in the city and her relative, the Mufti of Jerusalem, led the resistance against the British Mandate and the Zionist Movement for settlement in Palestine. Her father, Jamal El Husseini, was Secretary of the Executive Committee of the Palestine Arab Congress and Secretary of the Muslim Supreme Council and later on, Chairman of the Palestine Arab Party. In 1936 he led the Palestinian delegation to London and then took on several important posts in Palestine and in exile. It is from her mother's side, Nimati El Alami, another native family from Jerusalem, that Jumana inherited the artistic sensibility. She took pride in her mother's drawing of the cyclamen plant, cherished it and hung it in a significant place in her home.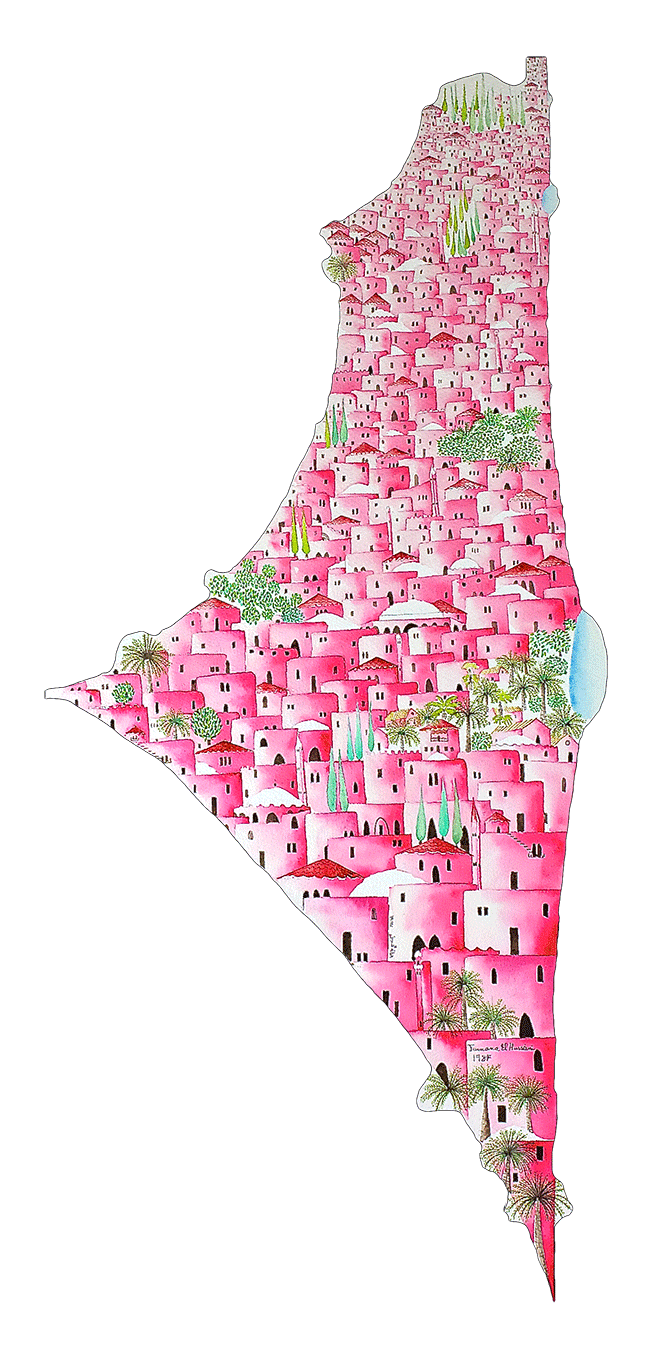 Jumana's roots in Jerusalem and her belonging to the city, spiritually and artistically, made of Jerusalem a major icon holding the primary position in her artistic creation. What attracts attention most in much of her works is her reliance on what her memory collected to express the past and to look forward to the future, keeping the present in parentheses, insisting on her attachment to the world of birds and brides flying over her beloved city. No wonder the dreaming state played such a role in what was happening in the young girl's evolution and imagination. She became a sensitive young woman open to life, with a big dream and true hope. place of her first secrets, her city that witnessed the forms of her first love.

Occupation and uprooting brutally tore her privileged beginnings to pieces but she did not surrender and instead studied Political Science in order to gain a better understanding of what had happened to her and her country – though her intuition eventually led her back to the world of imagination and dreams. She married and became mother to three sons, but never left the place of her first secrets, her city that witnessed the forms of her first love. Her creation revealed her refined strength and her wish for a world filled with peace, serenity and justice.



There is no difference between her works devoted to butterflies, brides, Jerusalem and many other subjects she cared for, and the later works. Simplified and compressed like miraculous writings telling the story of an experience, of a period and of changes in space and time. But there was a transformation in the way she dealt with her treasured subject: her deep, sacred belief in a world imbibed with love and forgiveness, a belief that would restore the world in ruins and her lost paradise. Images alone were no longer sufficient to represent the place so she began representing it with magical writings and mysterious forms. She found shelter in these in order to regain her memories and her pristine intimate world which she had embraced for almost forty years. So the evolution from the early works to those of the second period took place when she decided to remove the veil on her stories and her early remembrances in order to write what's within herself and her entire existence. The later works thus gained in strength as they took root in abstraction and simplification, deepened in their expression of the authentic, just and true she projected. Many of those who admired Jumana's art did not initially favor her new artistic trend but with her persistence and experience she was able to maintain her position and proved her ability to evolve.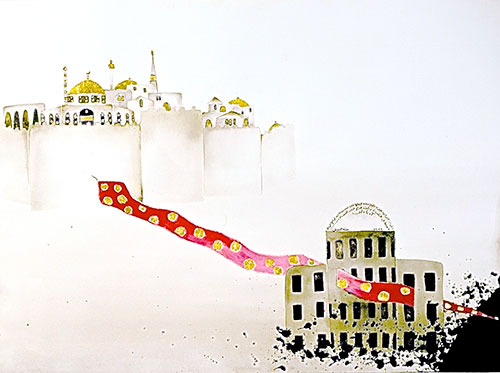 Jerusalem is the first defense line where her cousin Abdel Kader El Husseini died while defending the city in 1948. Jerusalem is the last defense line where no existence, no dignity, no past and no present can exist without justice, and justice does not accept partition. With great conviction, Jumana resisted the sinister forces that keep a firm hand on her existence and her spiritual and personal belongings. After having visited Japan in 1979 and seeing the destruction in Hiroshima, she perceived the link between the atrocious destruction of the atomic bomb and the attacks of Zionist extremists on the Aqsa Mosque in their effort to erase the personal and collective memory of the Palestinian people, and drew a diabolic snake crossing through Hiroshima and heading towards the Aqsa Mosque. Yet, Jumana was not one to brandish high slogans, and she did not paint to transmit messages to follow. Jumana painted on the spot of the wound directly; she painted from within her personal resources. This is why her paintings came as the sound of an interior imprint deeply linked to her identity, to her land, and to the capital of her beautiful country, Jerusalem "the Flower of all Cities".
(Translation by Roula Zein, August 2014)
---